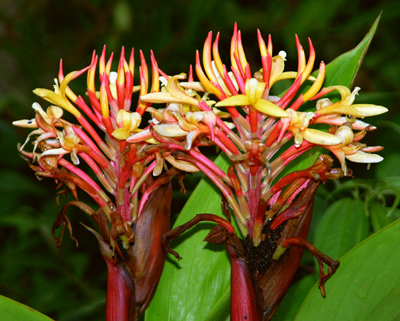 Burbidgea schizocheila often grows as an epiphyte
The center of diversity for the ginger family, Zingiberaceae, is the Indo-Malayan region with approximately 160 species occurring in Peninsular Malaysia. Borneo is still insufficiently known and under explored for gingers but may have more species than Peninsular Malaysia. One genus, Burbidgea, is not known to occur outside of Borneo. Geanthus was another genus found only in Borneo but now is included in the genus Etlingera.
One of the largest parks in Sabah, in Malaysian Borneo, is Kinabalu Park. It is about 75,370 hectares and has been partially surveyed for gingers. Over 30 species have been identified and are particularly abundant around Poring Hot Springs at 500 meters, although some species occur at altitudes up to 2000 meters. A number of species of epiphytic gingers can also be found in the Park.
All the photos on this page were taken at Kinabalu Park in and around three areas, near the Park Headquarters, Poring Hot Springs, and Mesilau forest preserve.
Further reading:
Kinabalu, Summit of Borneo, edited by K.M. Wong and A. Phillipps, The Sabah Society, 1996
The Plants of Mount Kinabalu, Gymnosperms and Non-Orchid Monocotyledons, John H. Beaman and Reed S. Beaman, Natural History Publications (Borneo) in association with Royal Botanic Gardens Kew, 1998
Photo Gallery
Click Photos to Enlarge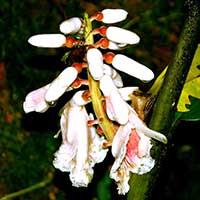 Alpinia havilandii
Boesenbergia sp.
Burbidgea schizocheila often grows as an epiphyte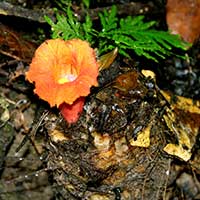 Costus globosus
Etlingera muluensis
Hedychium cylindricum shown here growing as an epiphyte with the Bird's Nest Fern, Asplenium sp.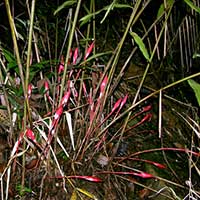 Hornstedtia gracile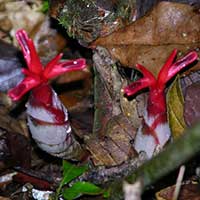 Hornstedtia incana
Zingiber pseudopungens