View of Watson Island, with site delineated
Sixty-five years ago, a middle-age Austrian immigrant named Franz S. Scherr hacked and dug Parrot Jungle out of a dense, creek-fed subtropical hammock in out-of-the-way South Dade County. The featured attraction was the Scherr family's pet blue-and-gold macaw, Zebra.
Scherr's wife decried the idea as "a lot of foolishness," but Franz's brainchild took off like one of the soon-to-be-famous attraction's free-flying parrots. Amazed tourists who flocked to the exotic locale would ask whether the Scherrs had painted their birds. The lush gardens, its parrots and flamingos are today a beloved local institution, a quaint and hardy throwback in the midst of blooming suburbia.
But soon Parrot Jungle as we know it will be no more. Its owners are moving the attraction, lock, stock and parrot, to barren Watson Island, an artificial scrap heap in the middle of Biscayne Bay.
On this inhospitable ground, they have started building a new Parrot Jungle from scratch, one that its designers say will preserve the verdant look and intimate feel of the original, even as it gives today's visitors more of what they demand: more animals and birds, better shows, bigger and modern auditoriums.
"It's going to be very similar and very different at the same time," said Jeff Shimonski, Parrot Jungle's longtime chief of horticulture, whose staggering task it is to re-create the old park's florid canopy and placid trails on a windswept island traversed by 80,000 cars a day.
Shimonski and the people who run Parrot Jungle say they are keenly aware of the perils involved in transplanting a relic whose appeal seems inseparable from its singular setting and rustic simplicity. They pledge that plants, birds and animals won't be displaced by replicas or razzle-dazzle technology.
When the new park opens in the late fall of next year, Parrot Jungle habitu's will find much that is familiar, including winding trails and a reproduction of Flamingo Lake, one of Florida's most famous vistas. It will even have its own version of Parrot Jungle's well-known sausage tree. Shimonski has been tending one for years in preparation for the move, pollinating the African specimen by hand.
And, yes, Shimonski promises, within three years a thick wall of green will envelop the new park. Thousands of trees and plants have been grown in pots and compost berms at Parrot Jungle, and they will be planted under and around 60 massive old oak and ficus trees that are to serve as a frame for the new Watson Island park.
"We know that people think of Parrot Jungle as trees, canopy, lush foliage," Shimonski said. "We have no technology. We're not Disney. We do animals and plants."
But the park's operators also know they are up against fierce competition from Walt Disney World and the other theme parks, which have siphoned off most of the tourist traffic from which Parrot Jungle prospered.
And so the new Parrot Jungle will be a grander, busier place than the old. Though the Watson Island site is barely four acres larger than the existing park's 14 acres, the new Parrot Jungle will accommodate several ambitious new exhibits: not just a bigger Parrot Bowl, but also a serpentarium, an Everglades "marsh" and a replica of a cliffside as a habitat for rare Peruvian parrots.
The most obvious difference will be the addition of facilities designed for parties and corporate events, principally picnic pavilions and a vast, copper-roofed ballroom overlooking the park - an element its owners have long argued Parrot Jungle cannot survive without.
The need to expand drove its owners' decision more than six years ago to move Parrot Jungle out of its birthplace at 11000 SW 57th Ave., now encompassed by the affluent Village of Pinecrest. Bernard Levine, the veterinarian who bought the park from Franz Scherr's five children in 1988, contends he never would have contemplated the move if opposition from neighbors had not blocked expansion plans.
"My dream was always to stay here," Levine said wistfully, sitting recently for an interview in Parrot Jungle's café. Outside the plate-glass windows, cockatoos and macaws noisily waited on perches to be fed by visitors, as they have for decades. "It's so beautiful; the lushness of it and the serenity of it."
"But things have changed. We found ourselves just trying to hold our own. I know it probably sounds harsh, but we were just destined to fail."
Members of the Scherr family, some of whom helped Franz Scherr run and build Parrot Jungle, express a mixture of disenchantment and perplexity over the move. They are convinced the park could survive where it is now, and question the choice of Watson Island, where they worry the parrots will be exposed to salt water, traffic noise, helicopters and ships, said Bill VanderWyden III, Franz Scherr's oldest grandson.
"We would not feel differently from many folks who have grown up with it. I have heard many people express dismay about the move," said VanderWyden, a dean at the University of Miami's law school, who worked at Parrot Jungle while growing up.
But Cory Gittner, author of a lively history of Parrot Jungle, said the disappearance of most of its contemporaries - the mom-and-pop attractions that once dotted Florida's roadsides - attests to the economic pressures that Levine faces.
"Parrot Jungle had not really changed in 52 years when Bern Levine bought it. Now every attraction has its own exit ramp off the interstate," said Gittner, whose book is permeated with admiration for Parrot Jungle's determined founder.
"So I don't fault him for the move. There is a lot that will be lost, including the historic buildings. Anything they can do to re-create all that will certainly keep the locals happy. I think it's going to be great, but it's obviously going to be difficult."
If the project, and its price tag of about $50 million, appear monumental, so do the obstacles. Watson Island, created from fill left over from the dredging of Government Cut, seems an unnatural place for parrots or a jungle. It is flat, its soil is poor, and it lacks a natural source of fresh water.
Yet Levine and his staff exude confidence, which they attribute to meticulous planning and the knowledge that their designs have been tested in the best of labs - Parrot Jungle itself.
It might surprise park devotees to learn that the Edenic setting they cherish is in large part the product of an ingenious design, first laid out by Scherr, and years of intense human intervention. Scherr filled in much of the marshy ground he found in the hammock, dug ponds - including Flamingo Lake - and, working around towering oaks and cypress trees that had grown there since the previous century, kept the narrow trails always twisting to keep sightlines short and create the illusion of a far-larger place.
The park's colossal banyan tree, for instance, reached that size because crews induced its growth. More than a dozen people on the landscaping crew are constantly trimming, chopping, digging and planting.
"It's always been a place in flux," Shimonski said. "Yes, it's a natural icon in a world of high tech. But it's a highly manicured park. There is a formula for creating a Parrot Jungle."
That the formula could be reproduced elsewhere dawned on Levine and Shimonski after Hurricane Andrew ripped through Parrot Jungle in 1992. Though no birds were lost, Andrew shredded the hammock.
Within two years, however, Shimonski and his crew replenished the jungle. They learned they could replant felled trees. They learned that on-site composting can provide a rich new topsoil to promote rapid plant growth. And they noticed that sunlight pouring in through the thinner canopy allowed a wider and colorful variety of palms, bromeliads and heliconias to thrive on the ground.
That post-Andrew experience underlies the plan for Watson Island, which Shimonski describes as an "orchestration of planting."
For several years, Parrot Jungle crews have been growing more than 1,000 species of trees, bushes and plants at the park's nursery for replanting on Watson Island - a profusion of gumbo limbo, ceibas, royal poincianas, calabashes and African tulips, raphia palms and solitaire palms, plus a variety of elephant ears and 15 species of heliconia.
Shimonski says he believes the island's coarse, sandy soil is an advantage. Because it is porous, it allows in water and oxygen, encouraging the growth of micro-organisms that produce nutrients essential to tree and plant life, and thus reducing the need for environmentally perilous inorganic fertilizer.
Earlier this year, crews deposited 60,000 cubic yards of fill on the Watson site, raising it to 12 feet above sea level, and then shaped it into a contoured landscape of mounds, swells, pathways and ponds.
Nearly 60 massive oaks, black olives and ficus trees growing on the site were gingerly uprooted and moved to a staging area to make way for the contouring, then moved back into place. All have survived, so far.
At the foot of each, the fill has been layered over by a top dressing of four inches of Parrot Jungle's compost, rich in desirable microorganisms and their beneficial byproducts of nitrogen and phosphorus. Creeping vines have been planted to make their way up the trunks. Growth of a pair of ficus trees will be induced to replicate the giant banyan at the center of the old park.
Construction of paths, amphitheaters and the park's two main buildings, which enclose more than 55,000 square feet of space, is now just under way.
Later on, fast-growing specimens that can create a wall of foliage in a matter of months will be planted beneath the large trees, and on the ground beneath those will come bromeliads, shrimp plants and heliconias for color, Shimonski said.
A stream, fed by municipal water and lined with concrete, will wend its way through the man-made jungle, much like the natural Snapper Creek does at the existing park. It will empty into an Everglades marsh where spoonbills, ibises and other wading birds will disport themselves. The marsh also will function as a natural filtration system for the stream.
When the new park opens, Shimonski said, the foliage will still appear relatively thin. ``Within two years, with no hurricanes, the foliage will be more than adequate for a nice park," he said. "In three to four years, it will be at its utmost."
To reduce wind and noise from the adjacent MacArthur Causeway, and limit visibility of anything outside the park, berms have been raised along its boundaries and will be lined with heavy plantings, said Hakki Koroglu, the Coconut Grove architect who is designing the project.
"When walking in the park, one should only sense the canopy, nothing more," Koroglu said.
Finally, the park's 500 parrots and other birds, many of them bred at Parrot Jungle, will be gradually introduced to their new environment. The park's animal handlers predict that the parrots, many of which come from islands and coastal areas, will have little trouble adapting to it.
One thing will be missing from the new Parrot Jungle: free-flying birds. Watson Island, with its helicopter and seaplane traffic, is too dangerous for it. At the old park, Levine sounds like a man satisfied that he has struck the wisest compromise between preserving Parrot Jungle's past and securing its future.
"Not very often does a business have this kind of opportunity - millions of people from all over the world right at your door. But I want as much as possible to look the same, to stay with what we do best."
"Now we just have to prove what we said."
Photo Gallery
Click Photos to Enlarge
MICHAEL STRADER MARKO/ HERALD STAFF `WE'RE NOT DISNEY': Jeff Shimonski, Parrot Jungle's chief of horticulture, pollinates a sausage tree. He's in charge of transplanting the jungle environment.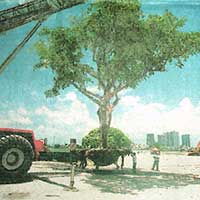 CANDACE BARBOT/HERALD STAFF A black olive tree is prepared for replanting.