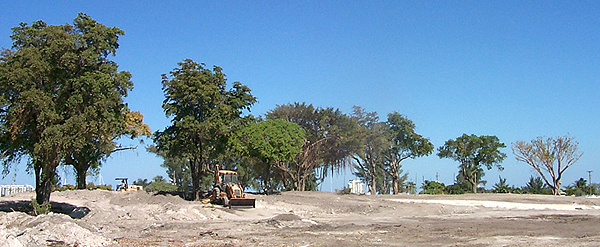 Subtle changes in the topography of a site can be advantageous to a theme park or zoo setting for many reasons. First there is the aesthetic benefit. Low rises over which trails pass or vegetation grows will be much more visually interesting than a flat terrain. Also, visitors will tend to walk slower around curves and over rises. This is a great benefit to a small park that wants to retain its visitors for a longer period of time. Changes in terrain also will aid in sound and wind mitigation.
This new tropical theme park is being built on an 86 acre (35 hectares) manmade spoil island. It was created by the limestone fill that had been dredged out of the ship channels at the adjacent Port of Miami during the first half of the 1900's. The majority of the island is only six to eight feet above the saline water table.
Originally when this project was conceived in the mid 1990's, there were about 150 trees on the 16 acre (land-wise) Parrot Jungle site, all but 80 trees were demolished because of poor condition or were considered invasive exotics by the Miami-Dade County Department of Environmental Regulatory Management (DERM). The remaining trees were moved into a holding area offsite until the top four feet of fill could be striped off (and stored as landscape fill). The site was then contoured.
Over 26,760 tons of stabilizing fill was then brought in to raise the site. This limestone fill was used to create building pads and bases for trails and exhibits. All structural pads were raised to 12 feet. Many of the planting areas were created as berms or raised areas between trails. Some of these berms reach 17 feet above the water table. Once this had been accomplished, 60 of the largest canopy trees were brought back onto the site to create a "Jungle" canopy. The canopy tree replanting had to be closely coordinated with the site earth moving activity. This took place in two separate mobilizations over a period of six months.
One advantage of moving trees on such a large and unobstructed site was that they required minimal canopy pruning and could be "walked" upright with a 65 ton "All Terrain" hydraulic crane. The root balls on these trees averaged 25 feet in diameter and from four to eight feet in depth. The largest of the trees moved onsite was a Ficus religiosa, the Bo tree, which weighted about 80 tons.
The process of relocating large trees is a challenging one. From the initial preparations of root-pruning and canopy trimming to the rigging and actual moving of the tree; each tree presents a unique set of difficulties. Initially, all of the trees were root-pruned at least three months in advance of relocation (trees that were moved twice were not root-pruned a second time). Each species of tree has a typical branch architecture, bark thickness (which may or may not impart resistance to compaction by tree straps), wood strength, and root ball characteristics. All of these specifics have to be known beforehand otherwise moving large trees becomes an experiment that often is unsuccessful.
The success rate of the relocation of this first group of large trees is 100% after more than one year. Several of the taller Bucida buceras, Black Olive were struck by lightning before the project began and were pruned back to healthy branches and trunks. These also appear to be thriving.