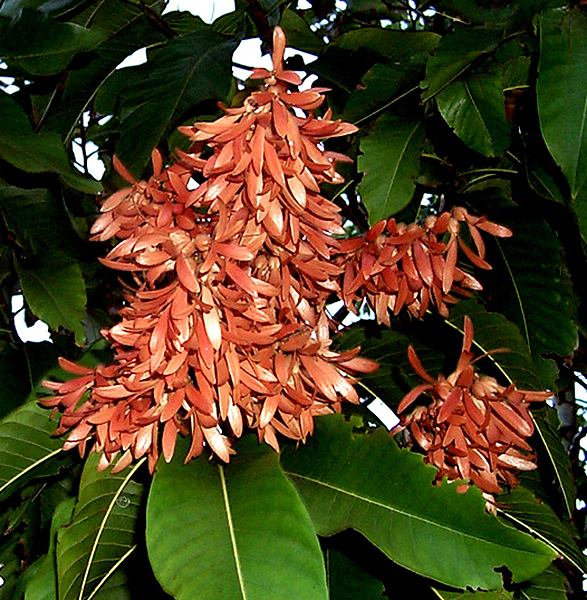 Triplaris sp. in bloom. Triplaris cumingiana is native to Northern South America.
Tropical Sustainable Landscapes - ASLA 2006 Annual Meeting & 43rd IFLA World Congress View .PDF
Successful Mosquito Control and IPM at a Zoological Theme Park View .PDF
The Tropical Designs of Florida website features tropical horticulture, hurricane horticulture, and tropical arboriculture. Topics from Tropical Plants and Tropical Animals to Integrated Pest Management and Composting are discussed. There is a section on Theme Parks which focuses on sustainable and eco-efficient site and exhibit design, and another on Hurricane & Typhoon Tree Recovery which presents some of the methods that I have utilized to recover wind-thrown trees or to stabilize and protect trees from storms. The Plants of Malaysia & Borneo is a favorite topic of mine that I hope provides a glimpse into the natural history of this fascinating part of the world.
My articles and opinions are derived from 35 years of hands-on experience in the field of tropical horticulture. In 1976 I began employment at Parrot Jungle as assistant to the Chief Horticulturist. I became Director of Horticulture and Facilities Manager in 1988. In 2003, a new 18 acre park called Parrot Jungle Island was built from the ground up in the City of Miami (the original site of Parrot Jungle was closed). I was the landscape designer and responsible for the installation of all plant and tree material. The name of this zoological park was changed to Jungle Island in June 2007, the fourth anniversary of this park. Presently, I am Director of Horticulture and a Vice President of Jungle Island.
I am a Municipal Arborist (FL-1052AM) certified by the International Society of Arboriculture. This certification shows additional experience in the specialty area of urban trees and a thorough knowledge of establishing and maintaining trees in a community. Much of my consulting work consists of site tree surveys to determine the condition of extant trees. I have also given expert testimony for tree and other tropical horticulture issues.
My work in tropical integrated pest management and sustainable landscape development has been shown to be cost effective and eco-efficient. I have consulted with architects, owners and developers on new landscape developments, as well as existing sites, to create sustainable and cost effective landscapes.
I am an active member of the Society of Municipal Arborists and the Association of Zoological Horticulture. My membership on the City of Miami Green Commission for Urban Tree Development has allowed me to participate in the development of a new tree ordinance.
Tropical Designs of Florida is a member of the US Environmental Protection Agency's GreenScapes Alliance . This alliance is designed to help preserve natural resources and prevent waste and pollution by encouraging companies, government agencies, and other entities to make more holistic decisions regarding waste generation, disposal and the use of the land, water, pesticides, and energy. I wrote and am now implementing the 2007 five year strategic plan for Jungle Island's (formerly Parrot Jungle Island) U.S. Environmental Protection Agency's program for the Pesticide Environmental Stewardship Program.
All of the photos on this site are my own unless otherwise indicated. The great majority of them were taken in situ during my travels. I have a substantial database of tropical plant and animal photos. These are available for purchase.
Finally, I hope that you will find my website informative and perhaps even a bit educational. Comments and suggestions are encouraged, corrections are always appreciated.
Regards,
Jeff Shimonski

Photo Gallery
Click Photos to Enlarge
A grove of Phoenix dactylifera, the edible date palm, photographed in Orman Botanic Garden, Giza, Egypt.
A female inflorescence of Aechmea mariae-reginae, one of the few dioecious bromeliads. I collected the ancestor of this plant near Puerto Viejo de Sarapiqui, Costa Rica in 1976.
The hummingbird pollinated bromeliad, Werauhia ororiensis from the slopes of Volcan Poas, Costa Rica.
The pendant inflorescence of Heliconia collinsiana at the base of Volcan Mombacho, Nicaragua.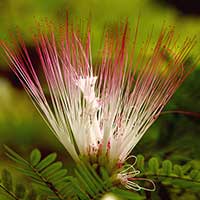 Calliandra surinamensis is found in the Guianas region of northern South American.
Triplaris sp. in bloom. Triplaris cumingiana is native to Northern South America.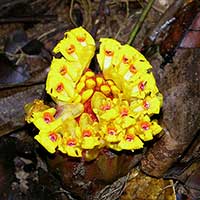 The ginger Etlingera fimbriobracteata in Mulu, Sarawak, Malaysia
An Impatiens species from the summit of Gunung Api 1700m in Mulu, Sarawak, Malaysia